BCM is a Top Company to Work for in AZ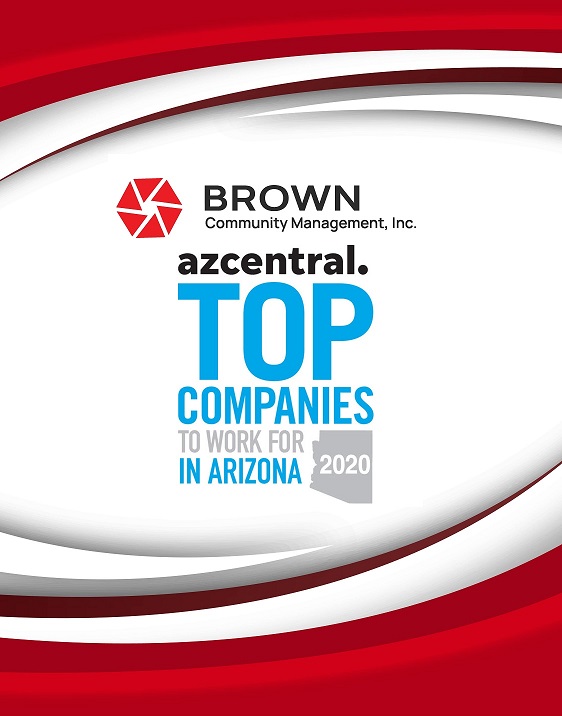 Brown Community Management has made the 2020 list of Top Companies to Work for in Arizona! As one of only 120 businesses in the state to receive this recognition, our company is incredibly proud to join these esteemed ranks for the third consecutive year. This annual workplace awards program is brought to us by The Arizona Republic, azcentral.com, BestCompaniesAZ, and Best Companies Group, which acknowledge the best organizations across the state as voted by employees in a comprehensive and anonymous survey.
As in previous years, employees rate their company by utilizing the Top Companies survey to measure work place culture, environment, leadership, pride, and satisfaction, combined with rigorous evaluations of workplace practices, policies, perks and demographics. Brown Community Management takes special measures to provide work-life balance to its employees, including flexible work schedules, ample time off for holiday and personal circumstances, and numerous activities and opportunities for team building and outreach. The Outreach Program, an employee-based committee, is available for charitable ideas to be shared and discussed at length. The ideas found to be best-suited to the company's outreach goals are in turn shared companywide. Brown Community Management strives to offer various types of philanthropic opportunities so that employees may choose which causes they would like to support based on their own availability and aspirations. To rally support over-and-above the already giving nature of the staff, BCM has also offered fun incentives and even matched monetary donations.
Brown Community Management provides a caring approach to community management. We don't just manage communities, we join them. Our hands-on, personal approach is why we enjoy one of the highest retention rates in the HOA industry. We are small enough to care about each client individually, yet big enough to have the financial stability and infrastructure to deliver the services your community needs.
To find out more about Brown Community Management or how we can assist your community, please visit www.brownmanagement.com.
[Sassy_Social_Share url="https://brownmanagement.com/bcm-is-a-top-company-to-work-for-in-az/"]