BCM Outreach: 2021 Winter Update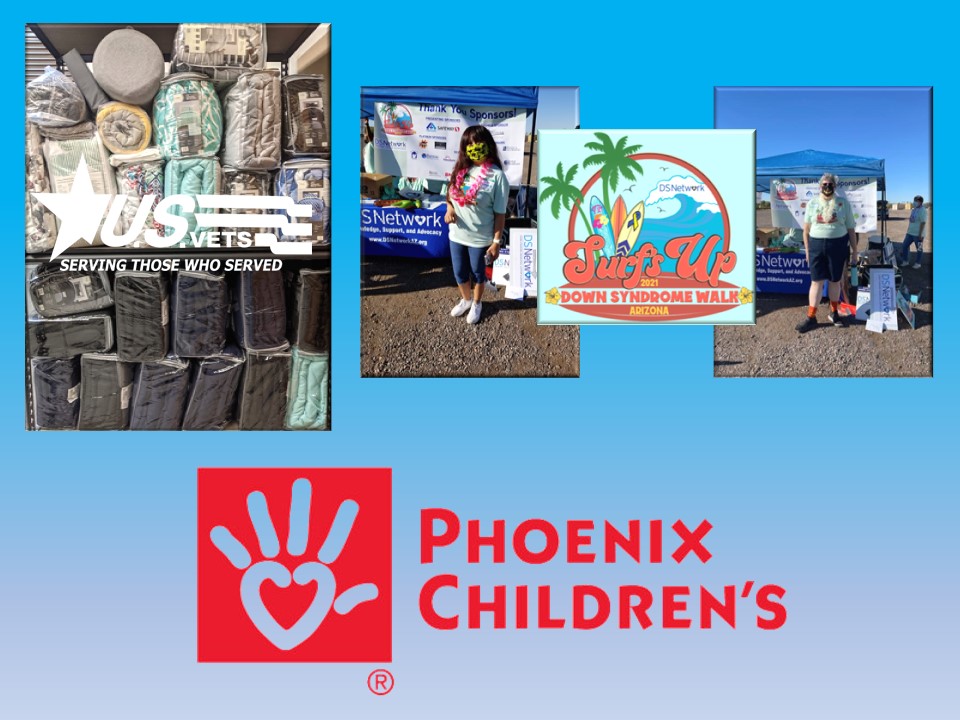 BCM Outreach is heading into the holiday season! Here's an inside look at our most recent endeavors:
Following our blood drive earlier this fall, BCM employees returned to volunteer at the Down Syndrome Network of Arizona Buddy Walk. DSNetwork educates, supports, and advocates for those in our community touched by Down syndrome. DSNetwork's annual fundraising event pivoted from a formal walk into a drive-in movie, and our volunteers had a great time working with this amazing organization for the fourth year in a row! For more information about DSNetwork, visit https://www.dsnetworkaz.org/.
In honor of Veterans Day, BCM also held a drive on behalf of U.S.VETS Phoenix. In just a couple of weeks, we were able to collect 25 twin bedding sets that will be put to good use in the new transitional housing facility for veterans in Phoenix. Fantastic news! Check out https://usvets.org/locations/phoenix/ for more info about U.S.VETS and how they serve our community.
On to holiday giving! Starting now, you can join us in making donations to Phoenix Children's Hospital by fulfilling wish list items online. These donations will benefit the Child Life Program, which is crucial to care at PCH and helps see children through the challenges of illness, hospitalization, and medical treatment.
PLEASE NOTE: At this time, Phoenix Children's can only accept donations that are sent through a distributor, so we are not able to physically collect donations at our office on their behalf. To order from PCH's wish list of toys and activity items currently needed, please visit one of the following registries:
Amazon Wish List – https://bit.ly/3FIADeg
Target Wish List – https://bit.ly/3HO8unZ
Important: When purchasing at either of the above, please ensure the shipping address for your donation is for Phoenix Children's:
1919 E Thomas Rd
Phoenix, AZ 85016
If possible, please select items that can be delivered to Phoenix Children's by December 10th. If you can save an image of the item that you ordered, or copy a link to the product online, please share it with us! We hope to create a photo collage of all items that our drive is able to fulfill. Feel free to post your image or link in the comments below, or email it to amanda.kechely@brownmanagement.com.
To find out more about Phoenix Children's Child Life Program and how your donations this season will help, please visit https://www.phoenixchildrens.org/centers-programs/child-life/wish-list.
Thank you!
[Sassy_Social_Share url="https://brownmanagement.com/2021-winter-outreach/"]