2021 Code:Red Bottled Water Drive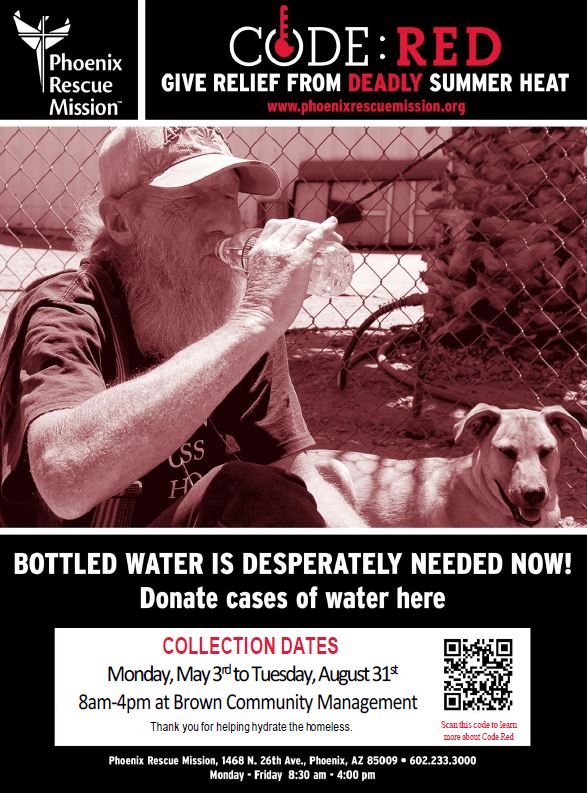 It's that time of year again! The heat is upon us and, for the fourth year in a row, Brown Community Management will be hosting a bottled water drive on behalf of Phoenix Rescue Mission. This amazing organization fights against hunger and homelessness in Phoenix; as temps continue to rise this season, participation in their Code:Red Summer Heat Relief program is needed now more than ever.
BCM is proud to once again be an official drop-off location for Code:Red! Starting Monday, May 3rd, our office in Mesa can accept 16.9oz bottled water by the case. We will be collecting cases through August 31st and invite you to stop by with your donation this summer on weekdays between 8am-4pm.
Please note: If you would like to make a considerable donation to this worthwhile cause (we can even accept cases by the pallet!), please call our office in advance at 480-539-1396. There are several members of our Outreach Committee that can take your call and help coordinate the delivery of your very generous and life-saving contribution. We look forward to hearing from you!
For more information about Phoenix Rescue Mission and all that they do for members of our community, please visit https://phoenixrescuemission.org/.
[Sassy_Social_Share url="https://brownmanagement.com/2021-codered/"]